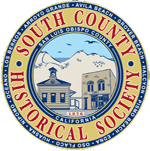 RESEARCH and HISTORY
Click South County Cities for a brief history of each City the South County Historical Society represents.
Click The Dune Forum - all complete issues!

The original South County Historical Society exhibit opened on March 17, 2010 at the IOOF Hall in Arroyo Grande, California. Routes and Roots: Cultivating Filipino American History on the Central Coast was co-directed by Craig Rock and Grace Yeh with assistance provided by Doug Jenzen, Barbara Main, Susan Rock, Joe Swigert, Margaret Ikeda and Evan Jones, the Bancroft Library, the Monterey Historical Society, the Guadalupe Cultural Arts and Education Center and members of the Filipino American Community.
Using original exhibit materials and their own research, Cal Poly-San Luis Obispo students created this online version of the exhibit for the South County Historical Society and Professor Yeh's Ethnic Studies course, Asian American Cultural Images.
Routes and Roots
gathers and shares stories, photographs, and documents related to Central Coast Filipino American history.
Click Here to View the On Line Exhibit
!
Photo Albums

Photos ~ Album of the Past 2003 - 2010