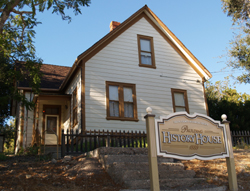 PAULDING HISTORY HOUSE

The first resident Medical Doctor in Arroyo Grande was Dr. Edwin Paulding. He came to Arroyo Grande in 1882, married Clara Edwards and together they bought the house at 551 Crown Hill Road in 1891. (the house was built in 1889). A beautiful Oak Tree believed to be 250 years old dominates the front yard.

In 1892 a blessed event occurred in the home. They gave birth to a daughter, Ruth. Ruth became a teacher and taught for many years in Arroyo Grande. She passed away in 1985 at the age of 93 in the same house.

The Paulding Middle School across the street from the house is named for her. She generously left the house and its contents to the San Luis Obispo Historical Society and in 1998 the property was passed on to the South County Historical Society.

Dr. Paulding, also a talented wood worker spent many hours working on carvings which can be seen in the house along with countless other artifacts, among them the only authentic Cumash Indian basket in the County.

Docents are available to answer your questions at the Paulding House during it hours of operation which are available by Appointment (805.473.3231) or on the 1st Saturday of the month from Noon to 3 p.m.