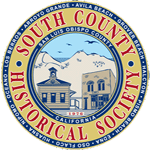 NEWS & EVENTS


South County Historical Society Newsletter

Did you know that our Newsletter is available on line? Click on The Heritage Press for the latest issue.

Click Here to Read the Heritage Press Newsletters


Events!

Check back soon for upcoming Events!

News!

2018 Board Elections!

On Saturday, November 18, 2017, the South County Historical Society held their annual membership meeting and election of officers. A slate of board members was provided by the membership committee and no nominations were offered from the floor. A unanimous vote of the quorum of members elected the officers as proposed.

Lunch followed the election of officers to all in attendance. The refreshment committee did an outstanding job of providing pizza, deserts and drinks.

The election was followed by a presentation from Jim Gregory who announced the release of his latest book, "San Luis Obispo Outlaws, Desperados, Vigilantes and Bootleggers". A reading by Mr. Gregory provided an interesting insight into the early years of lawlessness in San Luis Obispo County. Copies of his book are available at the SCHS.

The 2018 Board of Directors are as follows:

President: Mike Drees
V.P. Ways and Means: Paul Provence
Treasurer: Gail Maggio
Secretary: Polly Nelson
Membership Chair: Nan Fowler
Public Information Officer: Vivian Krug - Cotton
Curator of Collections: Jan Scott
Docent Leader: Linda Kime
Property Manager: Joe Swigert
Information Systems: Jeff Kime
Parlimentarian: Eric Nelson
Coorresponding Secretary: Colleen Drees





Past Events

Santa Manuela Schoolhouse Re-Dedication
Click here for photos.

35th Annual Antique Show and Sale Click Here for photos!



Click here for photos from the 2015 - 34th Antique Show!

Click here for photos from the 2014 - 33rd Antique Show!