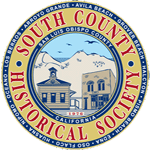 MEMBERSHIP

The South County area is rich in history and our docents, volunteers and members through their efforts and contributions maintain our mission to preserve our rich historical past.

The Society is structured as a non-profit organization and depends solely on donations to continue its work.

You can help! Write a (tax-deductible) donation check to the South County Historical Society, and mail it to:

South County Historical Society
P.O. Box 633
Arroyo Grande, CA 93421-0633

If you live in the area and you are interested in supporting our efforts—become a member, docent or volunteer.

We could use your help as a Docent at our Museums which are open to the public: the Hall, the Schoolhouse and the Barn. Local school and adult group tours that come to view our museums need a Tour Guide to help share our local history with visitors.

Other volunteer and committee opportunities exist also: there are needs for volunteers to help our three Curators with cataloging, visual media/artifact processing and care, and artifact accessioning into our computer database.

Other areas needing volunteers include Librarian Assistant, Visitor Research, working with the Exhibit Committee putting on changing public exhibits of local history at the Hall, Technology and Photography, the Book Committee, and helping at yearly Events; such as the Summer Concert Series, Harvest Festival and Member Only Events.


If you live in the area and you are interested in supporting our efforts - become a member. One of the benefits of membership is receiving our monthly colorful and informative newsletter - Heritage Press. It's fun - we have many social events in addition to our volunteer work such as our Annual Christmas Party, the Harvest Festival in the Village and Exhibit Openings throughout the year at the Historic Hall. Membership dues are reasonable and can be as little as $20.00 per year for an individual membership. If you have questions regarding membership email: Bee Hodges, Membership Director.