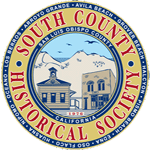 EXHIBITS

Come back soon for new exhibits.

Past Exhibits

IOOF Hall



Members of the South County Historical Society were treated to a museum exhibition at the IOOF Historic Hall in the Village of Arroyo Grande. The March 19, 2011 premier was an exclusive opportunity to visit the museum dedicated to the incorporation of the City of Arroyo Grande. After a brief presentation by Curator Jan Scott, the society members were treated to a wide variety of artifacts and objects in use around the time on the City incorporation in 1911. Included in the displays were an original voting booth, telephone switchboard, railroad memorabilia, religious influences, maps, fire department equipment and the first Town Marshal badge. Augmented by photographs and narratives, the members left the exhibition with a much greater understanding of life during that era and the motivations for incorporations of the City of Arroyo Grande.


Photos from the Grand Opening can be viewed by clicking here.